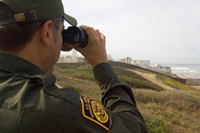 Border Patrol jobs get you outdoors!
Border Patrol Jobs - A Great Career
Border Patrol looks for candidates interested in preventing terrorists and terrorist weapons from entering the United States, detecting and preventing the smuggling and unlawful entry of undocumented aliens into the United States, and apprehending those people found to be in violation of the immigration laws.
Do you qualify?
Applicants must meet the following requirements:
Under age 40 (certain exceptions apply)
U.S. citizen and resident of the U.S.
Able to learn Spanish or already speak it fluently
Clean background
Meet medical requirements
Physically fit
What can I expect if I get hired?
New hires must successfully complete a 55-day paid Basic Academy training at the U.S. Border Patrol Academy in Artesia, N.M. Training includes such topics as Federal immigration and nationality laws, off-road driving, Spanish language, physical fitness training, and marksmanship. An additional 40 days will be required, past the 55 day Basic Academy training, for those that need Spanish language instruction. Border Patrol Agents must be willing to work overtime and shift work under arduous conditions, and be proficient in the use of and carry firearms. Border Patrol Agents are subject to random drug testing. They may also be sent on temporary assignments on short notice and on permanent reassignments to any duty location. All Border Patrol Agents start their careers along the Southwest border.
Fill out the form below and you'll get information on how to apply, your local recruiter office contact information, and answers to your questions about the Border Patrol Agent hiring process.
* All fields are required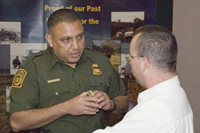 Recruiters can answer your questions about the job.