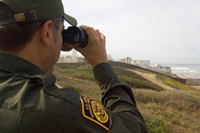 Border Patrol jobs get you outdoors!
Glossary of Border Patrol Hiring Terms
About Terms Used In Border Patrol Hiring
The government loves to use its own terms and acronymns. Here are definitions for these confussing terms.
Definitions of Border Patrol Terms
Announcement

The government term for a job posting. This announces that applications are being accepted for a job.

BPA

Border Patrol Agent

GS or GL

GS and GL refer to Office of Personnel Mangement General Schedule pay tables. GS is the standard pay scale and GL is the law enforcement officer (LEO) pay scale (which is higher than the GS pay scale).

Position

A position a slot a person can fill to do a certain job. In the government you fill a position, which has a position description that defines the tasks the job entails.

TSU

Training Scheduling Unit -- Once you have cleared all pre-employment your file goes to the Training Scheduling Unit where it waits until your turn comes for a slot in the training academy.
Ask Questions
This list isn't complete. If you can't find the term you are looking for, please e-mail me and I'll respond back to you and post it to the site.
Fill out the form below and you'll get information on how to apply, your local recruiter office contact information, and answers to your questions about the Border Patrol Agent hiring process.
* All fields are required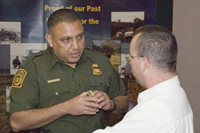 Recruiters can answer your questions about the job.