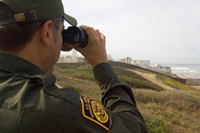 Border Patrol jobs get you outdoors!
Border Patrol Job Fairs and Hiring Events
Contact a Recruiter First
Your best bet is to contact a Border Patrol Recruiter before attending an event. The recruiter will be able to tell you where to find the booth and will be able to provide directions. Use our Border Patrol Recruiter Referral form to reqeust contact information for your local recrutier.
Schedule of Events
October
Date
City/State
Location/Event
Address
Time
October 3-4, 2008
Cincinnati, OH
Professionals Bull Riders US Air Force Invitational
October 4, 2008
Pasadena, CA
Courtyard Marriott Old Pasadena
180 North Fair Oaks Avenue Pasadena, CA 91103
9AM - 5PM
October 4, 2008
Sacramento, CA
Embassy Suites Sacramento Riverfront Promenade
100 Capital Mall Sacramento, CA 95814
9AM - 5PM
October 4, 2008
Santa Ana, CA
Embassy Suites Orange County Airport North Hotel
1325 East Dyer Road Santa Ana, CA 92705
9AM - 5PM
October 4, 2008
Santa Clara, CA
Hilton Santa Clara Hotel
4949 Great America Parkway Santa Clara, CA 95054
9AM - 5PM
October 10-11, 2008
Columbus, OH
Professionals Bull Riders Rocky Boots Invitational
October 11, 2008
Anchorage, AK
Hilton Anchorage
500 West 3rd Avenue Anchorage, AK 99501
9AM - 5PM
October 11, 2008
Fairbanks, AK
Fairbanks Princess Riverside Lodge
4477 Pikes Landing Road Fairbanks, AK 99709
9AM - 5PM
October 11, 2008
Seattle, WA
Sheraton Seattle Hotel
1400 Sixth Avenue Seattle, WA 98101
9AM - 5PM
October 17-19, 2008
Uncasville, CT
Professionals Bull Riders Mohegan Sun Invitational
October 25, 2008
Albuquerque, NM
TBD
TBD
9AM - 5PM
October 25, 2008
El Paso, TX
TBD
TBD
9AM - 5PM
October 31-Nov 2, 2008
Las Vegas, NV
Professional Bull Riders 2008 PBR Built Ford Tough World Finals presented by Wrangler
November
Date
City/State
Location/Event
Address
Time
November 6-9, 2008
Las Vegas, NV
Professional Bull Riders 2008 PBR Built Ford Tough World Finals presented by Wrangler - Weekend 2