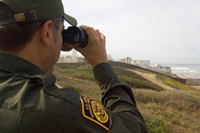 Border Patrol jobs get you outdoors!
Border Patrol News Stories
Big drug seizures and breaking up human trafficking rings is all in a days work for Border Patrol Agents.
Latest Border Patrol News Stories
Border Patrol Agents seized a truck that ran a checkpoint and was abandoned by smugglers. The truck had over 300 pounds of marijuan. The driver was found and arrested and handed over to the DEA. ABC15.COM
Border Patrol Agents Disover Drug Smuggling Tunnels in Nogales, AZ area. Story includes many pictures of tunnels. Border Patrol Agents use a robot to investigate tunnels. NEWS 13 KOLD
$7 million in cocaine was seized by Border Patrol Agents. The drugs were found in a car with a flat tire that had been abandoned. Story includes video. The bust occured in downtown Laredo, TX. PRO 8 NEWS.COM
Human trafficking investigated by Border Patrol Agents. Border Patrol Agents often work with local and other Federal law enforcement agencies. In this case Border Patrol is working with Manatee County Sheriff's Office in Florida. BRADENTON HERALD.COM
Bogus San Diego Gas & Electric car captured by Border Patrol Agents contained over 220 pounds of pot. Great quote after a canine alerted on the trunk for drugs: "GAME OVER." SIGN ON SAN DIEGO.COM
Border Patrol Hiring includes Hawaii. News story highlights Border Patrol Hiring drive in the Aloha State. HONOLULU ADVERTISER.COM
Mara Salvatrucha gane member arrested. The MS-13 member was captured in the area of Yuma, AZ. Suspect could face 1-5 years in prison. YUMA SUN.COM
Fill out the form below and you'll get information on how to apply, your local recruiter office contact information, and answers to your questions about the Border Patrol Agent hiring process.
* All fields are required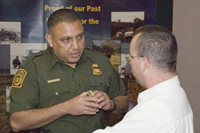 Recruiters can answer your questions about the job.