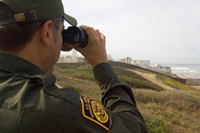 Border Patrol jobs get you outdoors!
Timeframe For Border Patrol Accepting Applications and Start Hiring
When Will Border Patrol Be Hiring Again
The last Border Patrol Agent application period ran for one month, from July 8, 2009 to August 8, 2009. They accepted a limited number of applications for positions on the Northern Border. That application period is now closed.
Fill out the contact form and I'll be sure to e-mail you when the next application period opens up and I'll provide details on how to apply.
How Many Agents Are Being Hired By Border Patrol
The number of Agents that Border Patrol employs at any time is determined by Congress. They authorize staffing levels in appropriations bills and Border Patrol hires accordingly. Some years Border Patrol is allocated a large increase in authorized staffing levels. Other years they are authorized only to maintain current staffing levels. With such a large number of Agents already on staff, hiring just to keep up with attrition due to transfers and retirements means a couple thousand agents have to be hired to fill the empty positions. Add any additional Border Patrol Agents authorized by Congress and you have the total amount of hiring per fiscal year.
How The Border Patrol Application Process Works
It takes a lot of Border Patrol Agent applicants to get one fully cleared and trained Agent out and working in the field. Not everyone who applies meets the basic qualifications requirements to be a Border Patrol Agent. Of those who are found to meet basic qualifications for the job, only some of those show up for their written test date. Of those that show up, only some applicants do the required amount of study and preparation for the logical reasoning and language test. Once those who pass the Border Patrol Agent entrance test are tentatively selected, they begin all the pre-employment checks. This includes a medical test, fitness test, random drug test, background investigation, and a structured oral board interview by a panel of seasoned Border Patrol Agents. Only after all the pre-employment has been completed can an applicant be offered a training slot at the Border Patrol Academy. Applicants need to make sure they get in the best physical shape possible before attending the Academy. The fitness demands at the Border Patrol Academy are very hard.
Fill out the form below and you'll get information on how to apply, your local recruiter office contact information, and answers to your questions about the Border Patrol Agent hiring process.
* All fields are required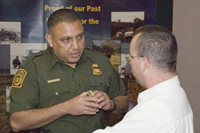 Recruiters can answer your questions about the job.